First, thank you for the interest in looking into my work, I work very hard on each pair of shoes and I take pride to do the best work I can possibly do. I'm currently taking orders so if your interested please read the following page and email me!
Steps before placing order:
Before working on a shoe, I ask questions about the base shoe, colors, materials, images, stitching, liner graphics, amount of padding wanted, etc. After talking this out, I make a make a JPG template of the shoe before doing anything. When template is ready, I'll send you the image, we can change something if you don't like it, and this will go back and forward until we reach an agreement on the template. Based on the details of the shoes and the shipping I will give you an estimate about the pricing, I require a deposit to start on a pair, this deposit will cover the base and materials if not provided, so it could range somewhere between 40-200 dollars. After the shoe is completed, I will bill the rest of the payment which should cover the labor, shipping and extra details that might have gone into it. If paying by paypal, I will charge an extra 4% fee for paypal and I have to wait 3 days for the money to clear before sending, this also applies for check. If paid by cash or money order, I will ship right away.
Time:
Normally it would take somewhere in between 1-4 weeks depending on complexity of the shoe.
Shipping:
I normally ship out shoes via USPS Priority Mail with tracking and insurance included. Double boxed to protect it from damage. If you prefer a different service as in UPS, just let me know and we can work something out.
My Rates(paypal fees not included):
400 For labor for most shoes with stitching on the midsoles.
40-150 for base, This varies according to how cheap we can find the base, if you like you can send me a base shoe as well.
Additional fees
-Additional Fabrics/leahters(if I don't have them in stock) 10-200 USD
-Quilting: 30-60 USD
Embroideries:
-50-100 USD to digitize complex designs, normal text is free.
-Actual embroidery 10-50 USD per panel, depending on the complexity of it.
-Additional 20-40 dollar fee is need if the shoes are to be sent outside of the United States.
Methods:
Its very important that you understand my process and why my shoes tend to be a bit expensive, I reconstruct shoes so I need a new or nearly new shoe to work with as a base, this is because I need to make a last from the inside of the shoe. Then I take it apart completely and make patterns from the pieces. With these patterns I make new pieces to reconstruct the shoe with and I stitch into place. Once I have the upper finished I form them using the last I made in the beginning and glue them unto the shoe. At last after the glue has cured, I stitch the soles.
For now I only work with shoes that have stitching in the soles, I can also work with vulcanized shoes, but I will stitch the midsole with a thinner thread just for security. Unfortunately at the moment, I can't work with running shoes or other Jordans that don't have stitching on the soles.
Here's a small picture to illustrate(click to enlarge):
1.Base 2.Taken apart 3. Pieces cut out(I don't reuse anything but heel counter) 4.Mid-process 5. Finished Upper 6.Finished shoe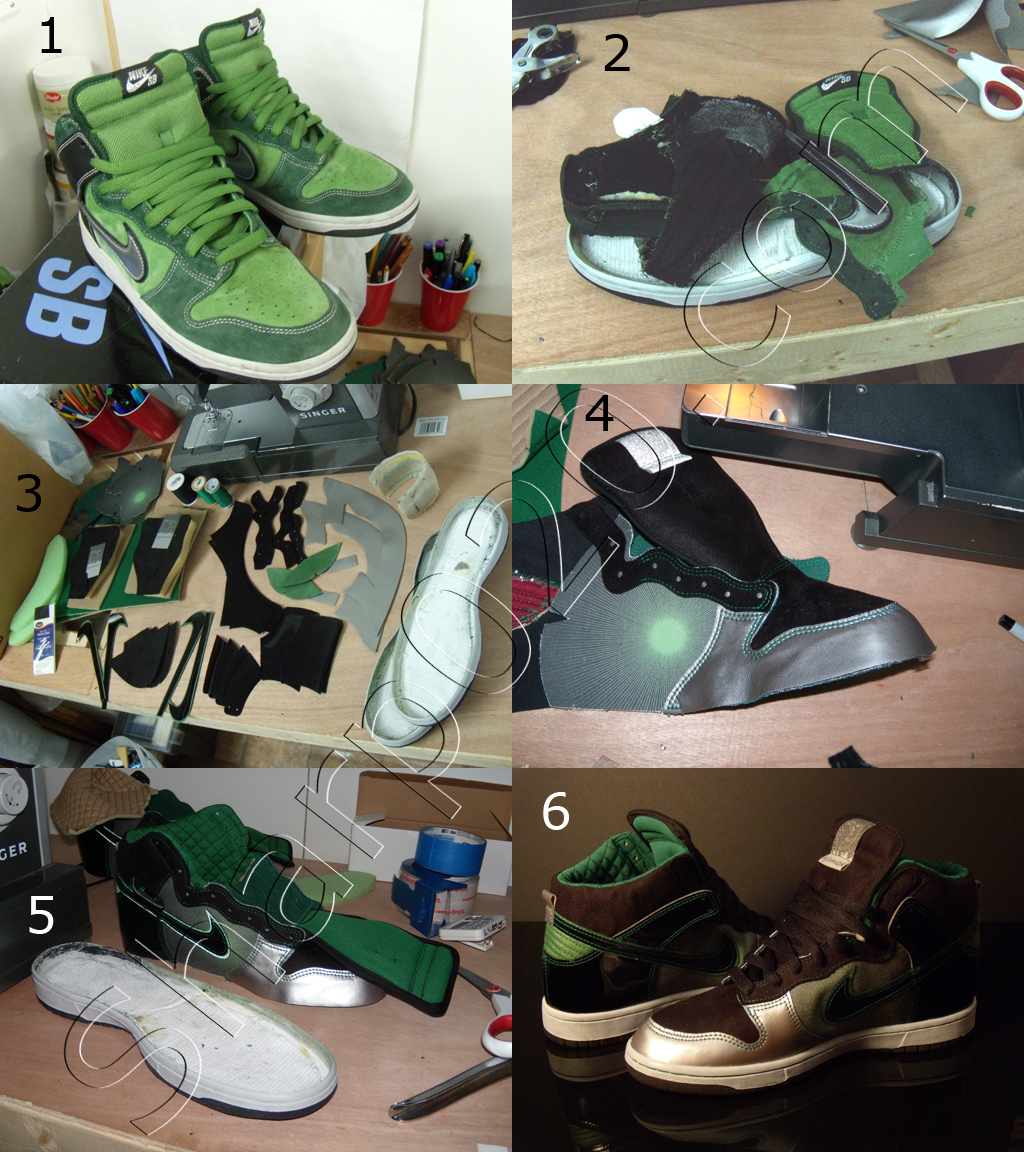 Forms of Contact
You can email me with any inquiries at info@sharp020.com
or you can add me on this page if you find it easier to write with:
I normally respond to email either in the beginning, middle or end of the day, so please be patient with me I'll do my best to answer any inquiries or concerns as soon as I can. Again thank you for looking at my work.